Trucks Options
Chassis and scuff board washing
Waste water recycling
Technical rooms
Customisation
Finish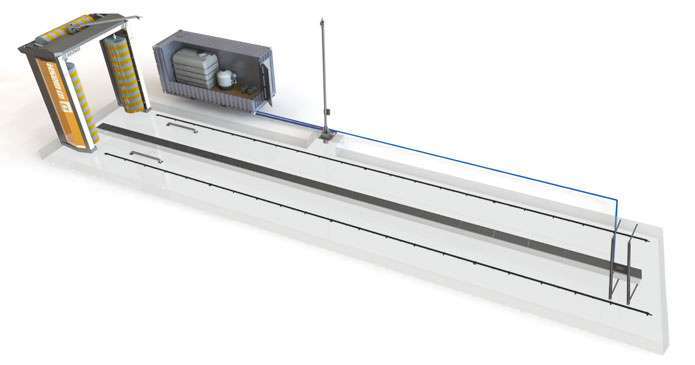 A full range of heavy goods vehicle washing facilities
1

Chassis and scuff board washing.

A complete service for regular maintenance of your chassis and thorough cleaning of your scuff boards and wheels using a high pressure wash. From de-salting to full high pressure washing, our offer enables you to maintain a level of cleanliness that will preserve and extend the life of your trucks.
Adapting to your specific needs
With its long experience, the ID WASH team offers technical adaptations dedicated to the specific needs of your business. For the food industry, we have developed a specific rinse phase for your HGV using disinfection products.
2

Waste water recycling

With an aim of sustainable development and in order to respond to regulations in force by reducing your consumption of water, we propose systems of water recycling specially developed to recycle waste water for the vehicle washing station. This dedicated system of waste water recycling responds perfectly to the constraints of pollution resulting from washing heavy goods vehicles. This solution saves water and complies with waste standards by washing with recycled water.
3

Technical rooms

Manufacture of prefabricated technical rooms in our factories. These rooms are fully fitted and equipped in our workshops. ID WASH provides a turnkey installation.
4

Customisation

Customisation of ID WASH vehicle washing gantrys. Cover colours, truck washing brush colours, addition of haulier logo on gantry covers...Customize your whole truck washing installation!
5

Finish

To optimise the vehicle washing finish, foam brushes improve the buffing effect on luxury bodywork.
Prevent watermarks on windows: Application of a wax or water-resistant coating during the final rinse.