ID3T washing tunnel
ID3T truck washing gantry: A rapid and powerful specialist.
A remarkable combination
The ID3T vehicle washing tunnel, also called a tunnel gantry, combines the functions of a traditional automatic washing tunnel (stationary vehicle and mobile machine) and the vehicle washing tunnel (mobile vehicle and fixed machine). To achieve this, the washing cycle itself plays the most important part.
A combined cycle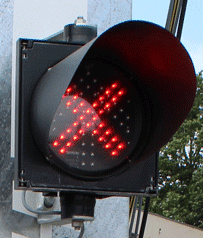 As the heavy goods vehicle arrives on the washing platform, the driver selects the programme for their type of truck. The machine instructs them with indicator lights and the heavy goods vehicle stops in front of the washing gantry (red light). The washing cycle starts in the same way as a traditional washing gantry to wash the front (the brush descends over the roof, and then double sweeps the front of the vehicle with the side brushes). When the washing tunnel finishes washing the truck cab, the light on the gantry instructs the driver that they can start moving (green light). During this time, 3 brushes on the washing gantry are in constant rotation. The driver moves slowly so that the sides of the heavy goods vehicle are thoroughly cleaned. When the automatic washing gantry detects that the truck has completely passed through washing tunnel, the light on the machine turns to red. The driver stops and the gantry switches back to automatic in order to wash the back part of the articulated section of the heavy goods vehicle. At the end of this phase the light switches back to green to tell the driver that the cycle is complete.
A low-cost solution
Thanks to this combined system, the driver spends less time washing their truck. There is therefore a reduction in the time the heavy goods vehicle is immobilised, as well as a reduction in consumption of water and electricity with a 40% decrease in actual cycle time. Important civil engineering savings. The tunnel gantry can work on a washing platform that is 50% shorter than a traditional gantry.