The new Actros, the jewel in Mercedes' crown
Details

Category: News
Published: Monday, 20 January 2014 13:07
Written by ID WASH
The new Actros is designed to respond to the needs of drivers and transporters. A significant reduction in costs of the new Actros and a much more dynamic drive quality thanks to optimised drive system configurations. Also features increased payload, reduced unladen weight, and increased safety.
A gradual shift towards the Euro 6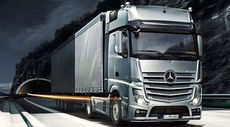 Mercedes-Benz launched its new second generation Actros at the end of 2013.
It is available in Euro 5 or Euro 6 versions. The initial sales mix is estimated at 90 % Euro 5 and 10 % Euro 6. Mercedes-Benz has announced that the Actros Euro 5 represents a reduction of 3 to 4 % in fuel consumption compared to the current Actros Euro 5.
Automated transmission and 4 engines to choose from.
The new DD13 unit in the new Actros was launched for the Euro 6; it is also available for the Euro 5 without particle filter and with a lower recycling rate. The 4 engine specifications currently available for the Euro 5 are:• 421 hp (310 kW) and 2100 Nm
449 hp (330 kW) and 2200 Nm
476 hp (350 kW) and 2300 Nm
510 hp (375 kW) and 2500 Nm
Like the current Actros, all our road models are equipped as standard with the automated Powershift transmission with steering wheel controls.