The new Volvo FH16
Details

Category: News
Published: Wednesday, 22 January 2014 10:00
Written by ID WASH
Volvo is releasing the new FH16 euro 6 next spring. It features a new drive system called I-Torque. Among its main strong points are the new generation I-Shift transmission and unrivalled fuel consumption.
Volvo announces: The FH16 Euro 6 for next spring
Spring 2014 will see the launch of the new Euro 6 version of the Volvo Trucks model, the Volvo FH16. With a new generation of 16-litre engines, this new model complies not only with the strictest standards in pollution emissions but also meets customer expectations in terms of performance and productivity.
The new range of Euro 6 engines offers three levels of power: 750 hp (3,550 Nm), 650 hp (3,150 Nm) and 550 hp (2 900 Nm). 3 engines combined with the I-Shift, Volvo's automatic transmission. The 550 hp version is also available in a 2,800 Nm version with manual gearbox.
The most recent version of this truck was unveiled in autumn 2012. Almost one year later, the Volvo FH16 has arrived in a Euro 6 version with significantly lower emissions of nitrogen oxide and particles.
JCVD does the splits for Volvo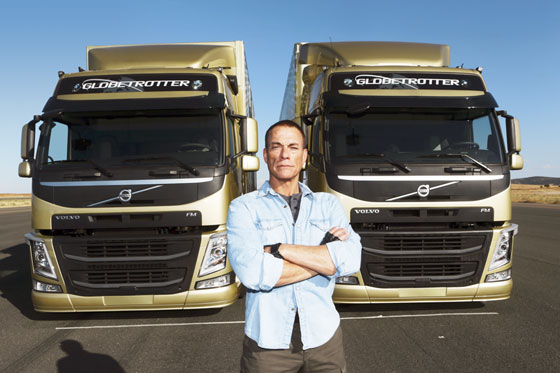 To promote the qualities of its active steering function, Volvo Trucks cast Jean-Claude Van Damme in its latest advertisement.
This quickly turned viral; the video has already been watched 67 million times!